Potato and Broccoli Soup
courtesy of cooking.com
I just had a bumper crop of broccoli and thought this would be a quick and easy recipe to use before anything went to waste. Remember broccoli is one of the best vegetables we can eat as it is full of healthy nutrients our bodies need and require to stay in tip top performance. Enjoy!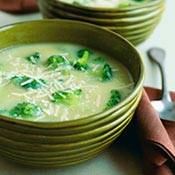 Bright green broccoli florets float prettily in this hearty soup, but it's the broccoli stems that do the real work. They're cooked with the potatoes and then pureed to form a creamy base. A final touch of Parmesan gives the soup an Italian feel.
Ingredients
2 tablespoons butter
1 onion, chopped
2 cloves garlic, minced
1 3/4 pounds broccoli, thick stems peeled and diced (about 2 cups), tops cut into small florets (about 1 quart)
1 1/2 pounds boiling potatoes (about 5), peeled and cut into 1/2-inch cubes
3 cups canned low-sodium chicken broth or homemade stock
3 cups water
1 3/4 teaspoons salt
1/4 teaspoon fresh-ground black pepper
1 teaspoon ground coriander
1/2 cup grated Parmesan cheese
DIRECTIONS
In a large pot, melt the butter over moderately low heat. Add the onion; cook, stirring occasionally, until translucent, about 5 minutes.
Add the garlic, broccoli stems, potatoes, broth, water, salt, and pepper. Bring to a boil. Reduce the heat and simmer until the vegetables are almost tender, about 10 minutes.
In a food processor or blender, pulse the soup to a coarse puree. Return the soup to the pot and bring to a simmer. Add the broccoli florets and simmer until they are tender, about 5 minutes. Stir 1/4 cup of the grated Parmesan into the soup, and serve the soup topped with the remaining cheese.
VARIATION:
If you'd prefer a completely smooth soup, add the broccoli florets to the pot after the potatoes have cooked for five minutes, and continue simmering until all of the vegetables are tender, about five minutes more. Puree the soup until smooth. This would also make a great first course for six people.