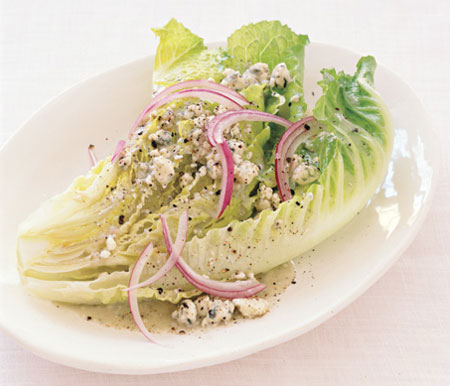 It is often times the simplest of meals are the tastiest! My family loves this recipe which we use often – it is the blue cheese that makes it so good! Enjoy!
Ingredients
1/2 cup extra-virgin olive oil
3 tablespoons white balsamic vinegar
1 1/2 teaspoons anchovy paste
1 garlic clove, pressed
1 cup crumbled Maytag blue cheese (about 4 ounces)
2 small hearts of romaine, halved lengthwise
1/2 small red onion, thinly sliced
Preparation
Combine first 4 ingredients in medium bowl to blend. Whisk in cheese, leaving some whole pieces. Season with salt and generous amount of cracked pepper. Place romaine wedges on plates. Drizzle 1/4 cup dressing over center of each. Top with onion.
Recipe courtesy of Epicurious.com